Hello everyone, this is my first post here asking a question. Quick intro, I'm in N. CA, and have had a box turtle since I was a kid. She lived with me over 25 years, passing away 5 years ago. Earlier this year I got the turtle bug again. I ended up with two young redfoot/cherry head mixed torts that I picked up from Terry K.
Fast forward to today, a friend of a friend wanted to get rid of her three toed box turtle since she had too many reptiles and not enough room. Since I had good luck with my last one, I accepted without hesitation. They dropped "him" off today with a 40gal tank, hide and heat lamp. Not sure of the sex, the eyes are brown and the bottom of the shell is flat, but he has spots of red around his head. So first question is to see what the experts think on its sex. At first glance I thought male because of the red. He is over 5" in length, so I expected the bottom of the shell to be concave for a male. Its flat as my old female was.
Second, I'm mostly concerned about this spot on the back of the shell. Is this shell rot or just a scar? I've never seen this on any of the turtles or torts I've owned.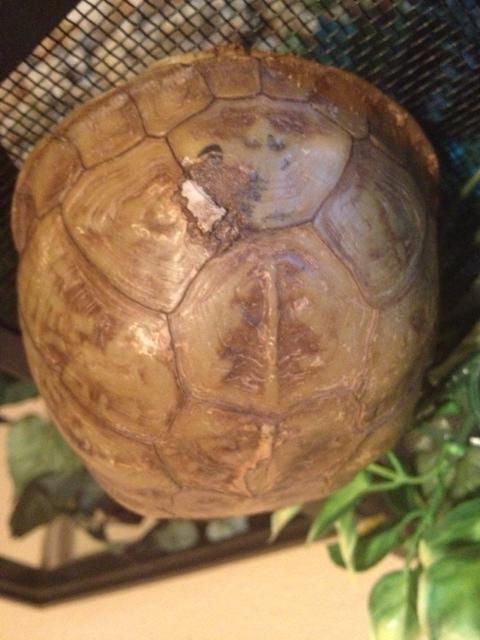 And third, his beak. It looks longer than normal to me. Is this ok? Or should I be concerned? I assume it will wear down with a varied diet.
I don't plan on keeping this one in the 40gal for long. I have a section of my patio fenced off for the turtle outside. I introduced it to him today, but he was a little stressed after the move, so after an hour or so I moved him back to his 40gal. Eventually I'd like to have him live outside permanently. Not sure if I'll let him stay outside this winter. My old three toe, would just dig a hole when it got cold and hibernate through the rain season. Whenever I was doing something in my patio, she would show up next to me to see what I was doing. I still miss that turtle, she had a great personality.