SO my first sulcata passed away only after a few weeks of having him...(Blastoise) - I waited a few weeks, and got another one, but then the fun begain-
had a baby, remodeled some of the house, built a room in the basement, invested in newsnakes, and racks, and work 35 hrs a week, and school about 7 hrs a week( part time fininshing up) so i never got around to post pictures of my new little guy (Bowser!)
couple pics when i first got him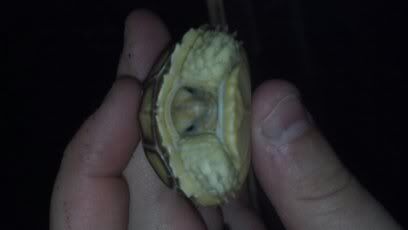 here are some more recent ones: sorry, you will have to go to my facebook for my animals to see-
http://www.facebook.com/DeesBalls
while you are here, please click "like"
to follow for pics, updates, and eventually for baby royals (once i get my breeding going)
As i said, i have been so busy i havnt been able to get his indoor cage done, so he is in a tub for now with the bare essentials, but looking to upgrade to his 4x2x2 cage here soon. just need to winter-ize it since my reptile room is in basement-
Also have a question concerning diet-
he has been fed spring mix for a long time, also some "tortoise mix grass" i got from tortoise supply . com and some grass from outside-- He is growing nicely, and i see no ill signs of heath, but what else can i feed him? i also have muazziu(sp) for him.
i was thinking of some carrots? or somthing in that nature?
thanks for help guys! good to be back!!!