Joined

Nov 4, 2009
Messages

1
Hello! I became a member of this site a short time ago but, thus far, have only been reading and researching. I'm very happy to have found a place where there is so much knowledge regarding tortoise husbandry.
I acquired Petrie, a Summer of 2009 Hermann's hatchling, in October. For the first few weeks, I kept him in a pretty simple set up. I used a Sterlite under bed storage box which was pretty sparsely furnished---he had simple flooring, two hides, a few clumps of spaghnum moss, a tile on which to bask, and a tile on which to eat . My hope was that by keeping the initial set up simple, I could monitor Petrie more closely---keep him safe, watch for consistent bowel movements, monitor his food consumption, become accustomed to his habits, etc. My plan was to make sure that my hatchling was happy and healthy before moving him to a bigger and better habitat.
I'm happy to report that Petrie is doing beautifully. He eats well, has regular bathroom habits, thoroughly enjoys a daily soak (or two), and appears to be thriving. That said, it was time to tackle the construction of a bigger, better, and more natural habitat for him.
I'd spent a good bit of time perusing the "enclosure" thread on this site (as well as similar threads on a few other websites) in hopes of garnering some ideas. I finally had a vision of precisely what I wanted. My hope was to create an environment that was natural in appearance, and one that would also provide Petrie with all of the things that tortoises need. I wanted varied substrates, green space (including edible plants), hides in both the warm and cool areas, breaks in his line of vision, plenty of areas to hide, etc. Essentially, I wanted Petrie's environment to mirror (as closely as possible) what he might encounter if he lived in the wild.
I'm pretty happy with what I've managed to create for him. I've split the floor covering---using aspen bedding on the "warm" end and organic orchid bark on the "cool" end. There are a number of rocks and stones (all of them at least 1.5" in size to eliminate the possibility of accidental swallowing) in the landscape. I have two potted succulent plants for decoration. I have grown "Tortoise Seed Mix" in a dish and, as such, have a nice mix of edible grasses, clover, millets, greens, and dandelion for Petrie to explore/graze. I have hides located on both the warm and cool ends of the enclosure. I have two tiles---one for basking, another for eating off of. There are multiple clumps of Sphagnum Moss for hiding in. He has a cuttle bone, should he feel compelled to chew on it. His food (mainly Spring Mix, Hibiscus, etc) is sprinkled with Reptocal at each feeding. I soak him each and every day, at least once. More often that not, he is soaked twice a day. Once a week, I add a few drops of Vita-Sol to his water. I currently do not leave him unattended with standing water. I feel that I soak him often enough that dehydration is not a risk. Beyond that, I'm a bit nervous about the potential of an accident involving water. He's currently just over 1.5" in shell-length. When Petrie is a bit bigger, I will add a shallow water dish. I just don't feel that it's necessary right now.
For heat and lighting, I have an Exo-Terra Solar Glo 125 Watt Mercury Vapor Bulb (heat + UVB) which I run on a timer (13 hours on/11 hours off) every day. The basking area of the enclosure temps at about 85f, the middle area temps at 75-80f, and the cool end stays right around 68f. I
mist the plants and the Spaghnum moss daily.
Here is the enclosure: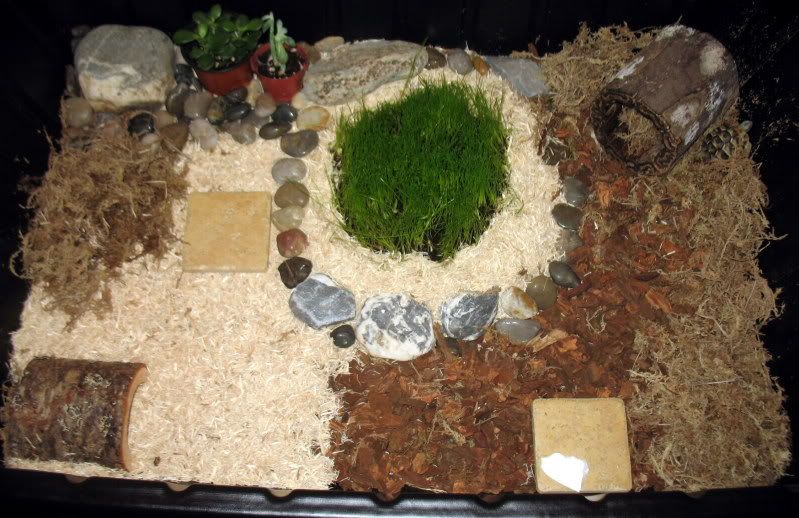 I really enjoyed designing and building Petrie's habitat. In order to help others who may be in the process of undertaking a similar project, I want to include a list of the materials used, where they were acquired, and the price paid for each item. The list is below. You will see that (heat/lighting not included), this entire habitat cost me just over $50 to construct. Once I had all of the necessary items, the actual assembly took me about an hour. I'm happy with the end result and I think it will serve Petrie well for quite some time.
ITEMS USED:
MacCourt Super Tub (36"L/24.5"W/8"H) $11.38 @ Lowe's
Mosser Lee Sphagnum Moss (432 cu in) $3.78 @ Lowe's
Mosser Lee Polished Stones (5 lb) $4.97 @ Lowe's
2 succulent plants $1/each @ Lowe's
Organic Orchid Bark $3.48 @ Lowe's
Aspen Bark 8 qt bag $4.99 @ Petco
Tortoise Grass (5 seed packets, will grow 10-20 sq ft of coverage) $10 @
www.sucatafood.com
Fluker's Critter Cavern (hide) $4.99 @ Petco
Terrascape Terra-Log (hide) $4.99 @ Petco
ceramic tiles (one for basking, one for feeding) $0.38/each @ Lowe's
I only used about half of the Orchid Bark, Aspen Bark, and polished stones. I grew the Tortoise Grass in a shallow saucer (the type that you put under a potted plant). I planted it in unfertilized organic soil which I'd already acquired from my local food co-op. My thought was that I could continuously grow the grass and replace the planter in the habitat as necessary. The grass that you see in the photos took only a week to grow over 2" in height from seed. I already owned the large rocks that you see (acquired a few years ago from the Green River during a trip to Vermont). I used very little of the Sphagnum Moss.
I hope that you all like the habitat that I've constructed. Any feedback and/or questions will be happily accepted. Thanks for looking!