Joined

Aug 31, 2012
Messages

899
Location (City and/or State)
I went and picked up the Ornate Boxie that I have been watching on Craiglist for several weeks now. It's posted in a couple threads on here. I just couldn't leave him there any longer.
This owner "R" got him from someone else. They had him in a sweater box size rubbermaid container. They told her he was 1 year old! They only fed him meal worms. His shell was "very dry and flakey" and "R" had to scrub it (with what?) and it "looks much better now".
"R" thinks he is about 3 months old. She had him in a 10 gallon tank with what I think was coconut fiber and regular desert dirt mixed in. The tank was previously used for RES and the water marks were still visable so I don't think it was cleaned very well. The tank has a regular aquarium hood on it with a regular light bulb. She had an under the tank heating pad on one wall and said she leaves it on all the time. She said she had been leaving the windows open and night and it got a little cold where he was. He had a butter tub lid for water (and actually had water in it) and a log hide. The top layer of dirt was pretty dry. He has been feed only meal worms "about 5 every other day". I doubt she has ever seen him eat any...there were several in the substrate crawling around when I emptied the tank. She said he wouldn't eat any fruit or greens...(probably since they couldn't walk away she knew he refused them). She handed me the "mister bottle" that he came with...it was a "No more tangles" spray bottle but she assured us there was only water in it now. I told her she could keep it because I have a lot of spray bottles. She gave me the jar of calcium supplement she had but added that she never used it. UGH! And I am sure he didn't get outside to get any sun! She told me she had a friend e-mail her a bunch of care sheets but she never really read them. I asked her to send them to me and texted her my e-mail...but it's almost 12 hours later and I haven't gotten anything.
When I got him home I took him out for some photos first and then put him in a VERY shallow soak and took him outside in the sun. I worked on his new enclosure (20 gallon long aquarium). <see photos>
I put him in his tank on the rock right under the heat lamp to see what he would do. After about 10 minutes he only turned in a half circle. I checked the temp and it was around 90* under the lamp. Since it was around 5 I figured I would feed him some of the meal worms on top of some spring mix and a little calcuim powder. The worms were very active but he didn't move at all. One even climbed out of the bowl and right over to him. He didn't budge. After about 30 minutes I picked him up and put him in the water. I was getting suspecious that his legs weren't working right and figured he would have to try to get out of the water so that was the best way to see. He tried...but his front right leg didn't really seem to help him move around. His back legs moved but weren't getting him anywhere. I took him out of the water and put him in an area of the tank that had no moss (only the coconut fiber) thinking that MAYBE he just couldn't get around in the moss and even though I think the water dish is shallow enough maybe it's not. There is a hide right behind him now and the heating pad thing is right behind the hide. I thought he would go right to it....he's moved about an inch and a full rotation. The temp where he is currently sleeping is around 80*. I covered the tank with foil and put a CHE on the opposite end of him. I left 1/4 of the tank uncovered. He also has not retracted at all...is this normal?
I suspect maybe he is MBD. (can they even get that this young?) Although after seeing the "Baby Runt" sullie I picked up a few weeks ago I suppose it's possible he is one year old.
His eyes and nose are clear. He did not pee or poo in his soak...but it's only day one.
I really need some advice on how to help him. I know lots of calcium and sunshine for sure...but how should I get the calcium in him? I wouldn't worry about the eating except that I doubt he has eaten in a while already...who knows how long.
This is the enclosure I set up for him. Two bricks of coconut fiber and then the moss on top. The large plate is his water. The light was only on over head to try to warm him up and see if he would eat. Please, any suggestions or ideas? I think I am going to have to take the moss out in the morning because there is no way he can get around on it. Maybe I should even put damp paper towels of the substrate to make it easier for him to move around?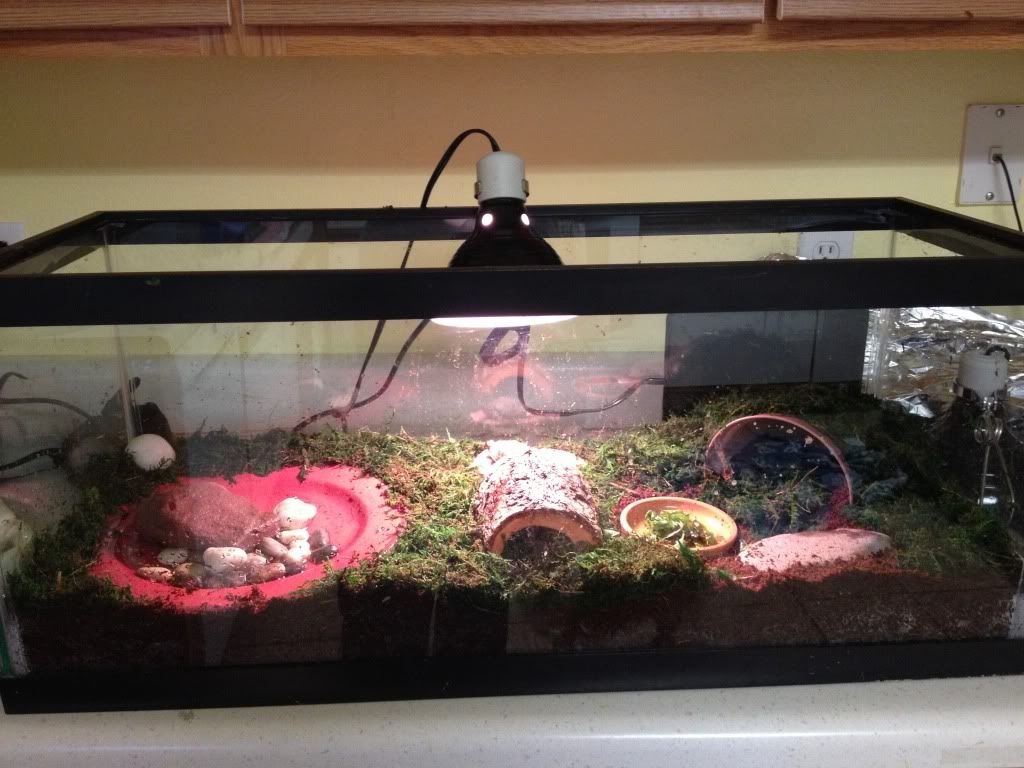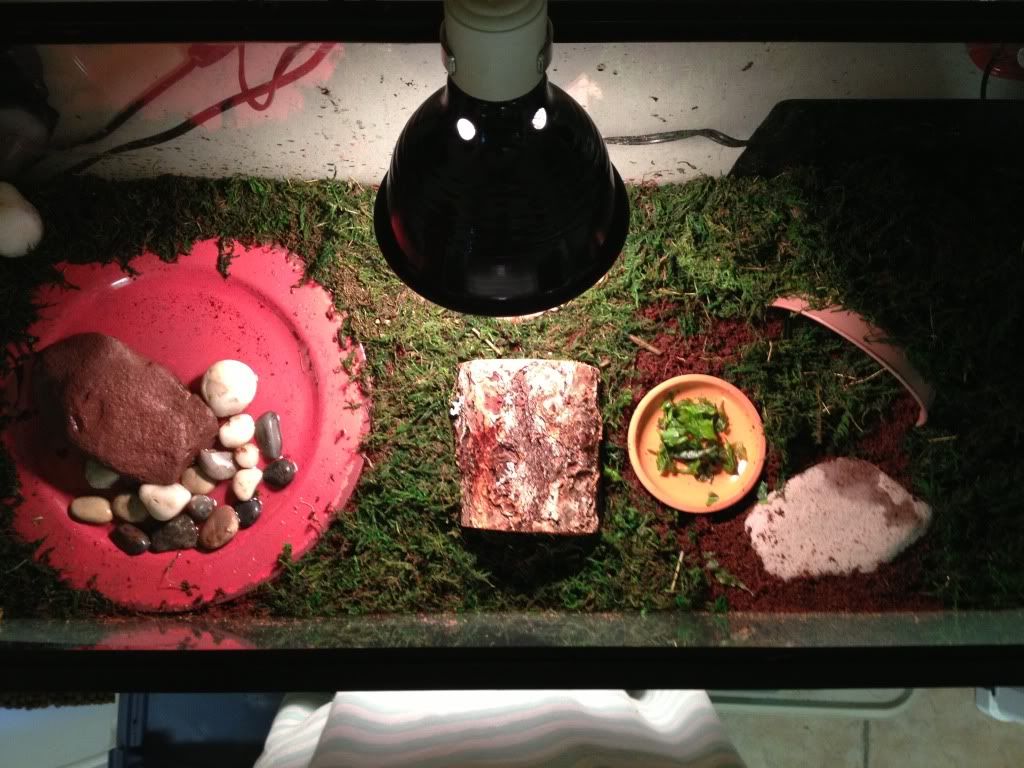 I tried to get as many different angle shots I could. I took these first thing before his soak. His shell seems to be deformed.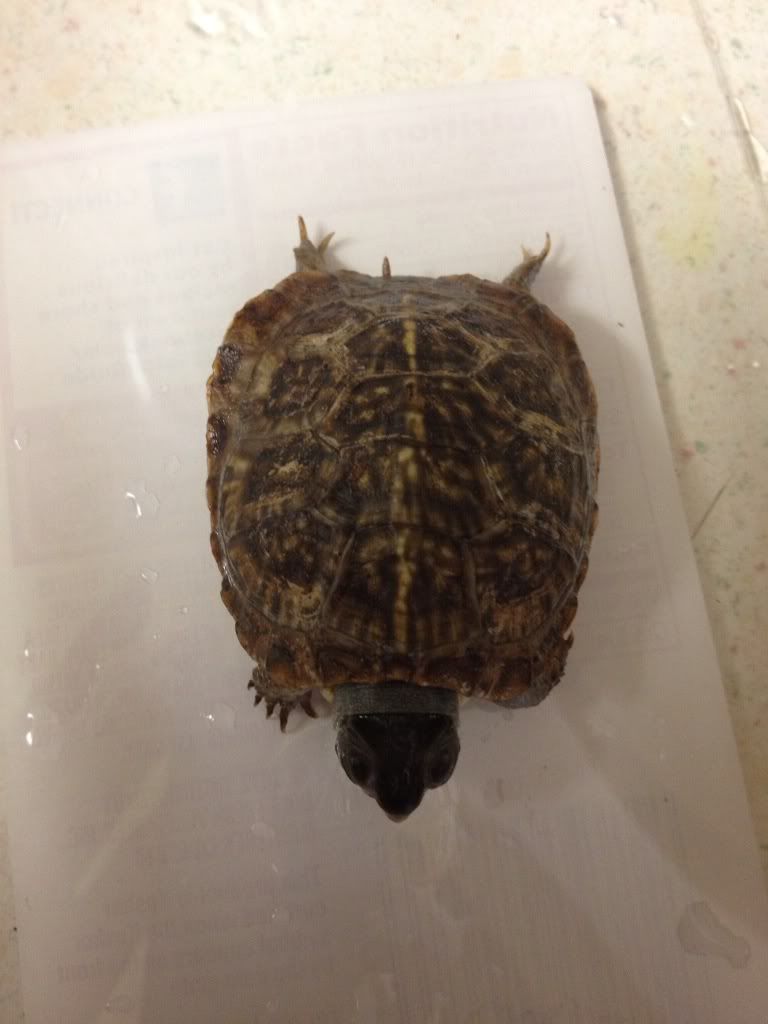 His plastron is REALLY pliable...more so then my 10 week sullies. I assume that has to do with possible MBD?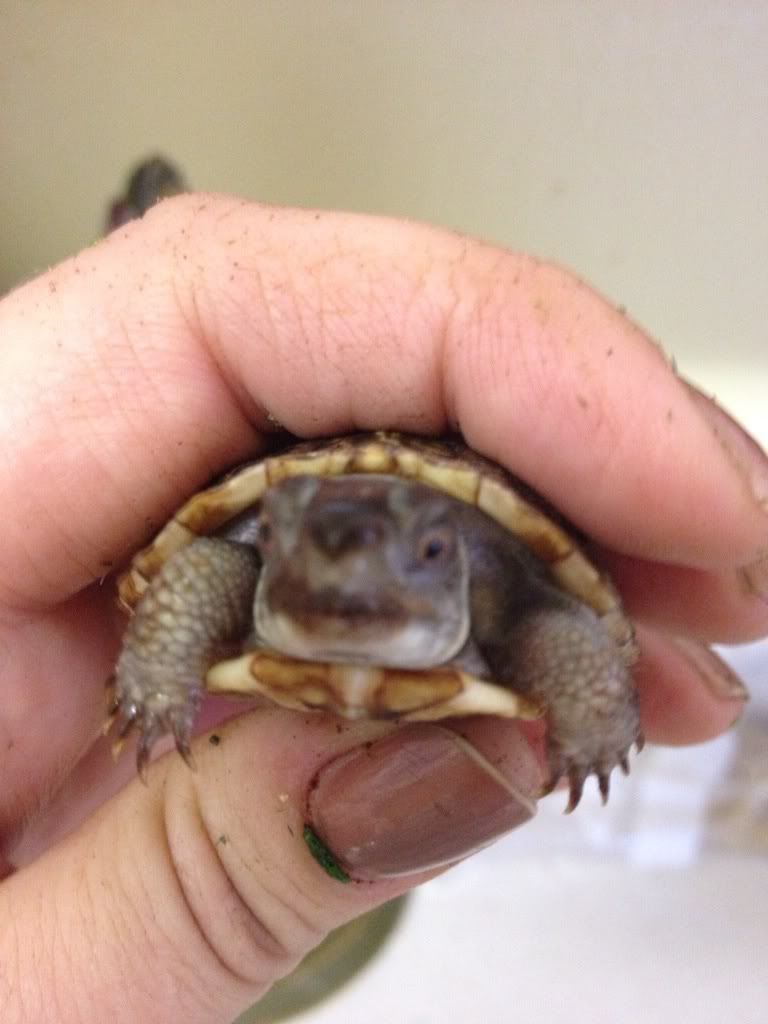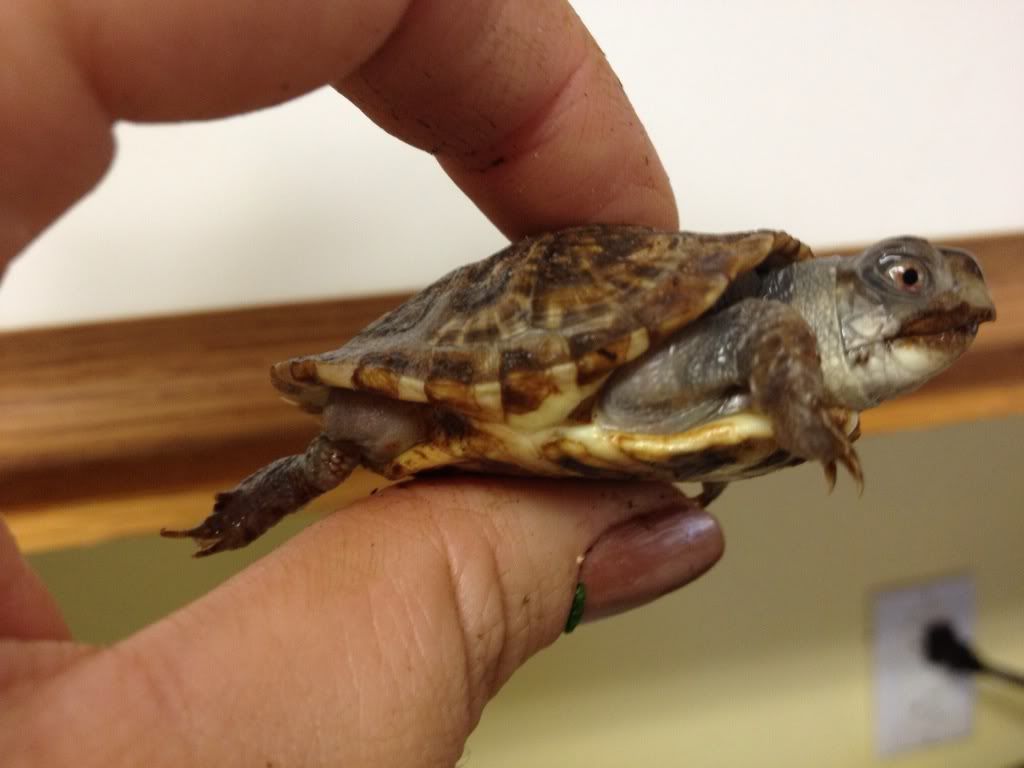 Thanks so much for looking! Any help, advice, comments...ANYTHING would be very much apprieciated! I'm so worried about him!