Old Timer
TFO Admin
10 Year Member!
Platinum Tortoise Club
Joined

Jan 23, 2008
Messages

89,053
Location (City and/or State)
So I went out to open the tortoises' doors this a.m. and found my young yellowfoot tortoise with his front end in the water dish (dish isn't big enough for the whole body), and this giant red balloon on the back end! I called my vet and she said to bring the tortoise over to her house. It was a prolapsed rectum. She gave him some muscle relaxants, then some ketamine and pain killer and worked for about an hour trying to push this mass back inside. It was so swollen and huge! She was finally able to push it back inside then took a couple purse-string stiches to hold it in until the swelling could go down.
When she started giving the injections the tortoise pooped and it was full of rocks. My tortoise has been inside the winter-time shed for over a month on cypress mulch and before that in a protected outdoor habitat that has a dirt floor...just regular garden soil, no rocks. The rocks or pebbles were black and looked like something you would have in an aquarium. There was one great BIG rock about the size of a walnut. I've had this tortoise for over two years and I have no aquarium rocks anywhere near the YF habitat.
While the vet was feeling around in there with her finger she said she didn't feel a penis. All this time I've been taking the guy's word for it that he was giving me a young male YF. And its a female. I have a hard time recognizing the different sexes on the YF and RF tortoises.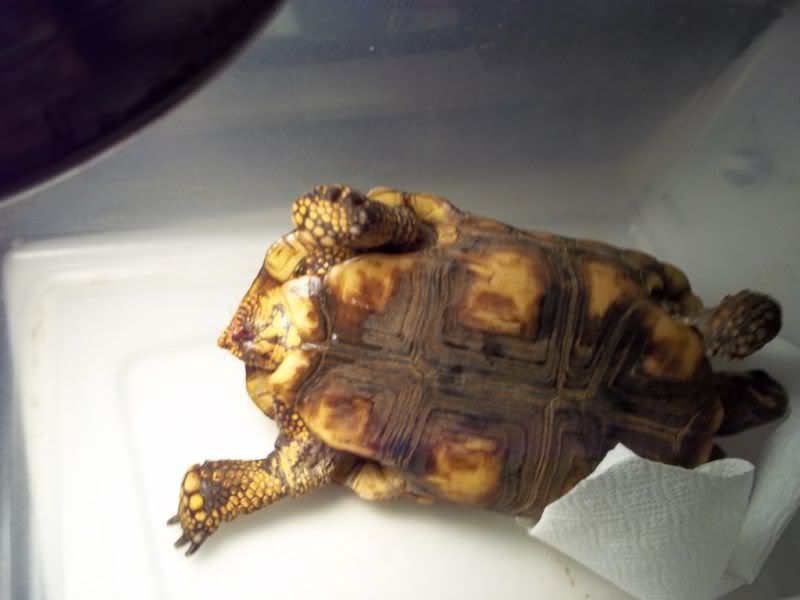 So whadda' ya' think? Male? Female?
Too bad I didn't get pictures of the prolapse. I was too upset to be thinking clearly...my roof leaks, my brother died Christmas Eve, and the stupid tortoise had a prolapse!