Old Timer
TFO Admin
10 Year Member!
Platinum Tortoise Club
Joined

Jan 23, 2008
Messages

83,182
Location (City and/or State)
I thought I would start a new thread on this topic and place some pictures for you all to see.
Don Williams of the Bakersfield chapter of CTTC had two empty shells and he cut them apart to take a look at the effects of pyramiding. Here's the two shells before he cut: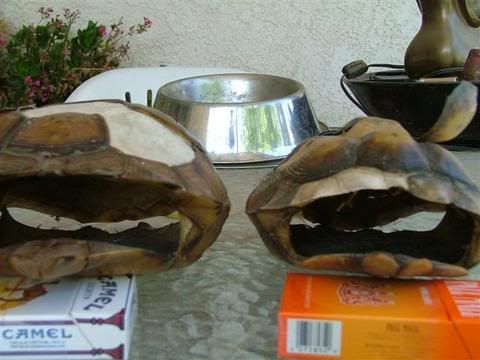 The pyramided shell on the right, shows just a mild form of pyramiding.
This is that shell with a cut off portion:
If you look closely at the inside of the carapace, you can see that the inside of the bumps goes up into the bump that shows on the outside..
Here's a view of a cut off section of the normal carapace:
My Dudley is now a little over 100lbs and 20 years old. When I first got him at 35lbs his pyramiding was worse than the tortoise shown here in these shots. He shows no ill effects from the pyramiding and the growth since living here has been smooth. I don't think this is going to adversely effect his life. However, if a heavy object were to fall on him, I imagine his carapace wouldn't be as strong as a normal sulcata the same size having that object fall on him. But under normal circumstances and in a normal life, I think he will live a long time.
Yvonne