Joined

Oct 13, 2012
Messages

19
Location (City and/or State)
Hi all!
I figured I would share little Speed Bump's enclosure with you all to see if I could get any recommendations and suggestions on what else I might could include in it.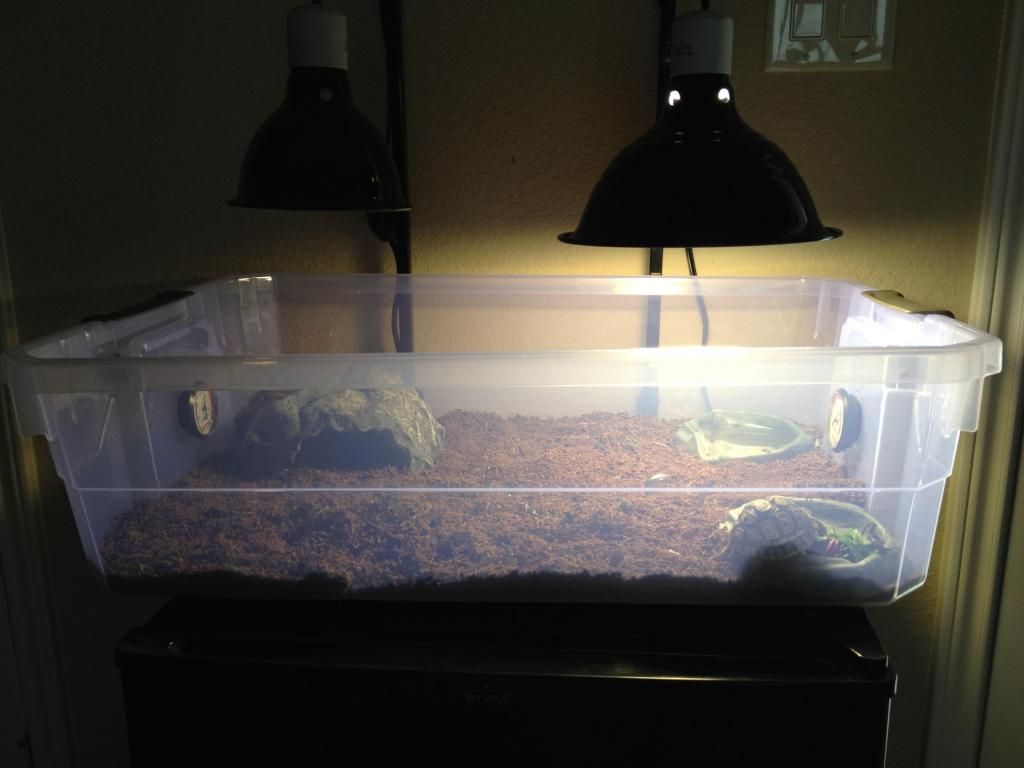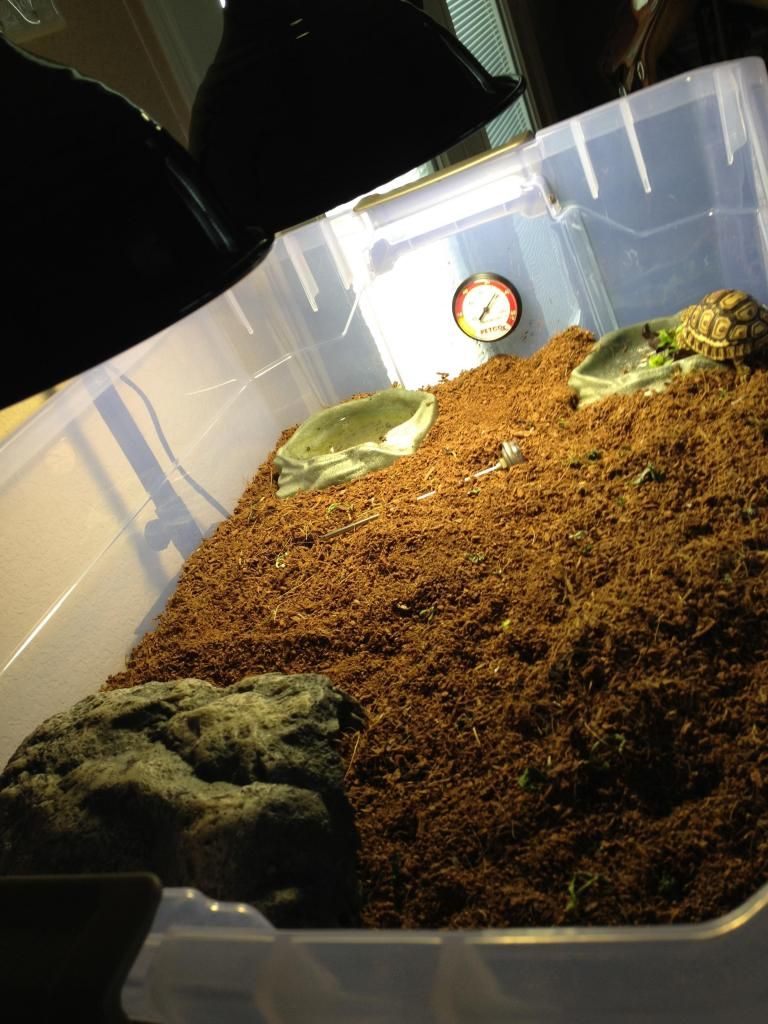 (Yep, little piggy had just been fed and was chowing down.)
Her actual "box" is a plastic tub that I happened to have bought about a week before she arrived.. and so the sweater tub ended up being the tortoise tub! Right now I have a Powersun 100W UV bulb on the "warm" side - which reads generally at about 100-110* right beneath the lamp in the basking spot. (Definitely never below 95* and never above 110* but sometimes with our crazy weather we'll have a random cold day in our fall and a random hot day in our winter, so the house may be a bit warmer/colder than we like to keep it sometimes!) On the "cool" side, I have a CHE - 50W I believe - that I only turn on at night. Just beneath the CHE, the temperature averages at around 75-80*, sometimes a little warmer.. but never cooler than about 75*
For substrate I've used the coconut coir and Speed Bump has decided to decorate her box with pieces of lettuce that she'll carry off from her food dish.. so there's the occasional piece of withered lettuce or various other veggie that I'll uncover which she's hidden.
I just recently purchased a little rock hide for her and two dishes. I think she definitely liked those changes, because previously I was just using a Triscuit box and a tupperware lid for food/water.
I plan on adding some flat rocks in there - maybe a couple of small round ones.. and perhaps a transplanted plant or two, once I decide which kind I can keep in there without causing my allergies to run amuck.
Also yes, that is a refrigerator that she's sitting on top of, which conveniently houses all my beverages and Speed Bump's food. Her tub is a little too wide for the fridge.. but thankfully she's not in a high traffic area. I had a couple of other places picked out for her, but Speed Bump's sisters are two very curious kitties and while they most likely wouldn't do anything, I didn't want to risk it! So the good thing about being on the top of the fridge is that the cats can't get to her even if they tried. (Unfortunately, they're goofy enough to have tried already and when they failed they decided it wasn't fun anymore!)
So please, if you have any suggestions, let me know! I'm definitely in this for the learning experience and I know there's no better way to learn than to ask the advice of others who have been successful or are going through the same thing as myself.
Thanks!
Mea (and Speed Bump)