Old Timer
TFO Admin
10 Year Member!
Platinum Tortoise Club
Joined

Jan 23, 2008
Messages

90,785
Location (City and/or State)
So, last year I had 3.4 Texas tortoises, then I got in a rescue and he was a male. The rescued tortoise was a "found" tortoise and I never could find his owner.
In the spring last year, I found the original 3 males dead in the hibernatorium. After a quarantine period, I put the rescue male with the females.
This spring I wondered why the new male had not come out of the hibernatorium, so I tore it all apart. He was dead...been dead for a long time. When I picked him up there was a heavy rattling inside his shell. He has a stone SO BIG that it won't fit through the arm holes to get it out.
The first picture shows 3 little stones that were also forming. You can see them to compare the size, just to the right and above the tortoise in the second picture: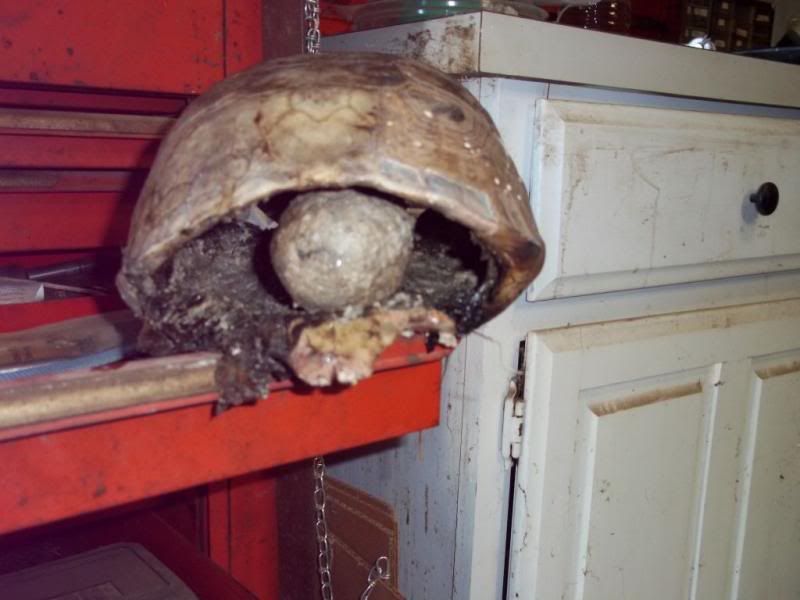 I tried sawing off the gular to free the stone, I tried to break the shellt with a hammer, I tried drilling holes...tortoise shell is a VERY hard medium. I don't know how dogs are so easily able to chew through it.