I'm not an expert and I don't want a single person to believe what I'm saying in this is true and the right way. I've been wondering if deep hibernation is just a defense instinct depending on the climate a tortoise is born into. Or can they semi hibernate? It seems like that's what my little Russian does. He is slower in the fall and the first part of the winter. Then he becomes really active until fall again. If he had been healthy when I got him I may have looked into hibernation but he wasn't. After all these years I don't want to put him in a refrigerator.?
i believe "semi-hibernate" is what they all do in between temperatures incompatable with activity and temperatures where they can be active , especially water turtles , water temperatures fluctuate often and a lot during normal winters ..... might have something to do with why they call what reptiles do brumation , and not hibernation ...........
hibernation is absolutely a survival method , it's a survival method they have evolved to be capable of ........ not all turtles or tortoises are freeze tolerant , some have evolved that ability ...... reasons for northernmost distribution boundries are pretty clear cut and understandable ...... limits for southernmost distribution boundries , not so clear cut or understandable , at least to me ......
i have been told that necropsies on captive kept turtles and tortoise often reveal liver disease , regardless of cause of death ...... the liver and pancreas are major factors in their ability to hibernate ....... blood glucose and fat storage of turtles and tortoises that hibernate vary by season , turtles and tortoises that don't hibernate do not have this seasonal variation ..... blood glucose and fat storage involve the liver , pancreas , and hormones associated with the pituitary , thyroid and adrenal glands ...... my question would be when these turtles or tortoises that have evovled these seasonal physiological cycles are deprived of one part of the cycle , what does that do ?
i'd be interested in seeing pictures of temperate adult captive born turtles or tortoises that have never been hibernated ....... the oldest box turtles i've got that i know were not wild caught and have been hibernated their entire lives are 12-15 yrs old.....
read a story about a blanding's turtle project in ohio , a female they captured was first captured 70yrs prior ........ so she hibernated succesfully for more than 70yrs
these are a 6yr old and a 12-15 yr old captive born box turtles .. i'd like to see something similar , non-hibernated for comparison ...... not that i think either way better , i've just not seen it but one way .....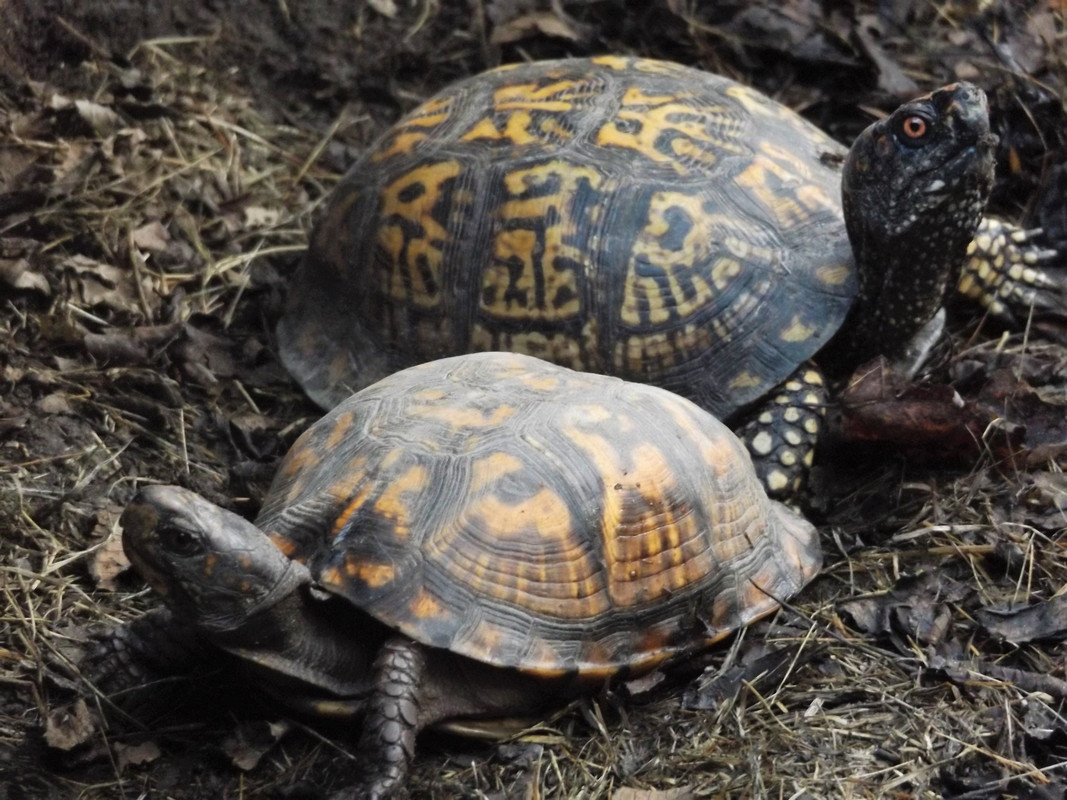 ​