Well-Known Member
10 Year Member!
Joined

Aug 21, 2007
Messages

6,069
Location (City and/or State)
What's in your lawn or tort pen?
What you may think is Clover may not be.
Shamrocks, sour grass, wood sorrel, Oxalis or clover, which is in your yard?
All of these plants looks similar and are known by many different names. Usually it is the flower that gives it away.
Shamrocks in olden days were actually white clover. But Shamrocks or what is sold mainly these days as Shamrocks are actually Oxalis or wood-sorrels which are toxic to torts.
These are known by the names wood sorrel, woodsorrels, yellow-sorrels or pink-sorrels after the color of their flowers. Other species are colloquially known as false shamrocks, and some are rather misleadingly called "sourgrasses". For the genus as a whole, the term oxalises is also used. These plants have a clover shaped leaf but the flower ( in many different colors) is trumpet shaped.
Oxalis, (
toxic to torts
) called by several names (see above), the flowers are trumpet shaped and similar to each other though there is a variety of colors such as white, yellow, pink, etc.
http://en.wikipedia.org/wiki/Wood_sorrel
Oxalis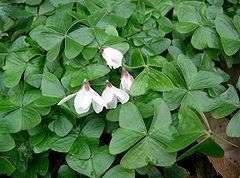 Sorrel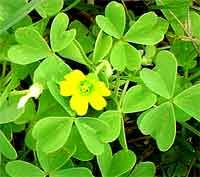 Oxalis _arborea
Clover is also known as (Trifolium), or trefoil, it is
safe for torts
. The flower is rounded and sort of spiky.
http://en.wikipedia.org/wiki/Clover
Here is a pic of a clover flower they too may come in a variety of colors such as white, red, crimson etc.
White Clover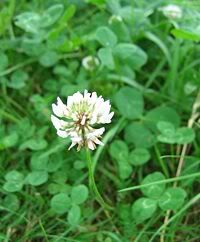 Red clover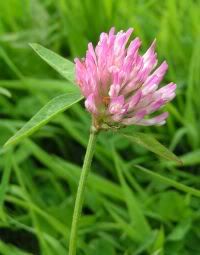 clover inflorescence
Oxalates
:
Plants that contain irritating substances known as oxalate salts. Contact with the sap may cause burning, swelling and pain.
Treatment:
Rinse mouth, and if contact with skin, wash with soap and water. Observe for problems in swallowing and breathing, and increased drooling. Also check for irritation and swelling of mouth, lips, and tongue.
Spinach and beets contain some oxalates that bind dietary calcium, making it unavailable to the tortoise. Use in limited quanties or do not feed at all. Some plants contain high levels of oxalates as in the case of wood sorrel or Oxalis and eaten in high quantity[/i]: Consumption of oxalates (for example, the grazing of animals on oxalate-containing plants such as greasewood), or human consumption of Sorrel may result in kidney disease or even death due to oxalate poisoning. Many metal ions form insoluble precipitates with oxalate, a prominent example being calcium oxalate, which is the primary constituent of the most common kind of kidney stone and bladder stones in tortoises.